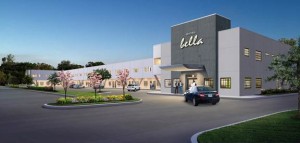 HOUSTON – NewQuest Crosswell has broken ground on Northwest Park Crossing, a 4.2-acre mixed-use project in northwest Houston. The site will house a 43-room Hotel Bella, Raising Cane's, a medical facility and a national fast-food chain in northwest Houston.
Construction will start in mid-October on Hotel Bella, which is being developed by Fourth Dimension Builders on a 1.2-acre interior tract bought earlier this year from NewQuest Crosswell. The hotel will deliver in June 2016.
A 3,000-sf Raising Cane's is under construction and will open in December. The Baton Rouge, La.-based chain has ground leased a 0.8-acre pad site. NewQuest Crosswell also is holding letters of intent for the remaining two pads in Northwest Park Crossing, located near the intersection of Tomball Parkway and Northwest Park Drive.
Northwest Park Crossing's strong point is its infill location in the Near Northwest Oaks retail submarket – adjacent to Aldi's and across the freeway from a Super Walmart. Northwest Park Crossing has 120 feet of frontage along the six-lane Tomball Parkway, where the daily traffic count averages 47,000 vehicles. The site is situated 2.3 miles south of Beltway 8 and 18 miles north of Houston's Central Business District.
"We were aware there was pent-up demand from pad site users looking in that submarket when we bought the acreage," says Tod M. Greenwood, principal and executive managing director of Houston-based NewQuest Crosswell. "But, the sites did go faster than we'd originally anticipated."